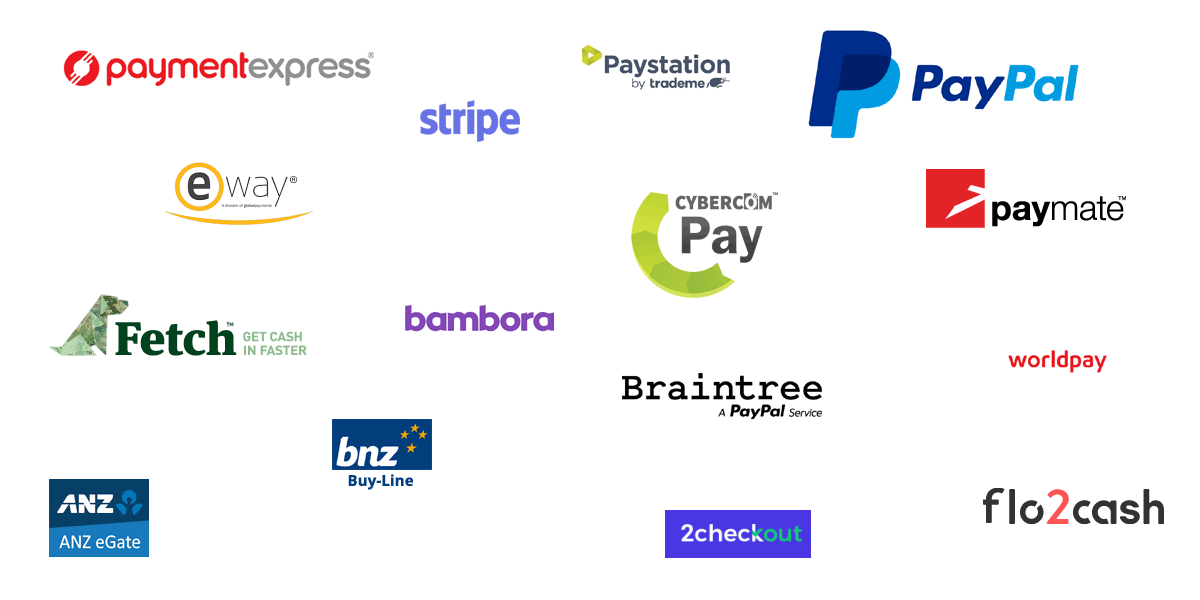 (updated Aug 2019)
If you are setting up an e-commerce web site (shopping cart, online store, online shop), one of the decisions you will have to make is what system you are going to use for collecting payment. Payment can be handled off-line (by bank deposit, cheque, etc.) or automatically at the time of purchase by real-time credit card processing. In the case of off-line payment, the customer is provided with instructions for making a bank deposit or posting a cheque and the order is processed after payment is received. It is the simplest and least expensive system to set up but may present a barrier to some customers who are looking for the instant transaction that can be had using a credit card.
We should also mention POLi at this point. POLi allows instantaneous transfers from the buyer's bank account to the merchant's bank account. It can allow an instant transaction to take place with out as much cost as a credit card transaction. It requires a little more effort than a credit card purchase in that the customer has to log in to their bank account to complete the transaction but it's much cheaper than a credit card transaction (at least 40% and more than that for larger transactions as fees are capped at $3).
When it comes to collecting credit card payments online in real time, there are two main types of systems:
Third party (all in one) payment solutions
Payment gateway linked to your own business merchant account
Third party payment gateways
These do not require you to set up a special merchant bank account. As a result they are quicker and less expensive to set up. For these type of systems the checkout takes place on the 3rd party web site and the name of the third party provider will appear on your customer's credit card statement. The funds go into the third party's account and afterwards are transferred to your own bank account. As of 2019, Paypal is the most widely used 3rd party payment processor in New Zealand as it has been available here for the longest time. PayPal now has a close contender in Stripe which became available in New Zealand in 2017. The pricing model is similar to PayPal, pay as you go, no monthly fees, 2.9% + NZ$0.30 per successful card charge.
Other examples are WorldPay, Paymate, eWay and 2checkout. Google Pay for Business is also available in New Zealand via Paymark. As of 2019 the details provided on Paymark's website are still rather light, so it's a case of contact them for further details.
Your own business merchant account
A merchant account is a special bank account that allows you to receive credit card payments. A regular shop that takes credit cards will have a merchant account. For internet payments, a special type of merchant account is required; it is called a 'card not present' merchant account. Usually the fees for this type of merchant account are higher since there is more risk of fraud. Most New Zealand banks can provide merchant accounts. In addition to having a merchant account you also need a payment gateway. The payment gateway acts as a 'middle man' between your merchant bank account and your web site to securely complete the transaction. With this type of system you usually pay fees to both the bank and the payment gateway and there are usually setup fees involved. You will also need to go through an application process and meet certain standards (e.g. business credit history) to qualify for a merchant account. For these types of systems the checkout can take place directly on your own web site (although the payment gateways typically also provide an option for doing the checkout on their web site). Examples of payment gateways that can be used with New Zealand merchant accounts include DPS, ANZ eGate, Paypro, Paystation and BNZ Buy-Line.
Not Sure Which To Choose?
Having your own merchant account may provide a smoother customer experience at the checkout because the customer does not have to get taken to a 3rd party web site. Also the payment goes directly into your account instead of into an intermediary account. However, if your sales volume is on the low side, your costs are going to be significantly higher and you will have fixed costs regardless of whether or not you make any sales. This is why many new online businesses choose to go with a third party processor. Of the third party processors, Paypal is the most popular as they have been around the longest and they are widely known and understood by online shoppers. However Stripe offers a better checkout experience than PayPal Standard. If you expect low sales volumes or are uncertain of the volume of what sales volumes you might expect, Paypal or Stripe are good options to go with. Integration of PayPal or Stripe into an e-commerce website is usually straight-forward as most have connections to those payment gateways built in. Other payment gateways usually require special add-ons or even custom coding to set them up. If you are more confident of your expected turnover, you can do some maths and do a comparison of costs based on your expected sales.
---
Download fee & feature comparison of top 15 NZ online payment options
I have put together a document containing a matrix of some of the common online credit card processing options (both 3rd party and payment gateway/merchant acct.) available in New Zealand:
Online Payment Processor Options for New Zealand Online Businesses
NOTE: This was last updated in Aug 2019, so please check websites for up-to-date information
Posted or updated by Aidan on 25th August 2019
Categories:
E-Commerce